By Carlton J. Fong, Texas State University and Megan Krou, Teachers College, Columbia University
Since colleges and universities were forced to adopt distance education due to Covid-19, teachers and students are concerned about the upsurge in cheating and plagiarism in schools.
Considerable technological resources have been put in place to monitor students online in order to detect cheaters. However, this monitoring has increased feelings of anxiety and distress among students. For example, some of them relate that they must remain "screwed" on their chair under penalty of being qualified as cheaters.
While electronic surveillance can partially reduce the risk of cheating, another factor that explains this phenomenon is underestimated: demotivation.
Our team of researchers educational psychology and in graduate studies studied the correlation between students' motivation, what drives them to succeed, and their propensity to cheat.
For this purpose, we have analyzed 79 studies on the subject and published our results in the Journal of Educational Psychology Review. We have established that a variety of factors come into play, ranging from a desire for good grades to confidence in their academic skills. Taking these factors into account, here are a number of ways in which students and teachers can increase motivation to fight cheating, whether it happens in the classroom or online.
Here are five:
1. Do not focus on notes
Of course, it's rewarding to get really good grades. But the more students focus on this goal, the more likely they are to cheat. If the grade becomes the only goal, cheating becomes the way to get it.
The desire to learn decreases when the teacher places too much emphasis on exam scores, increasing averages, and student rankings. Grades are needed, but what matters is acquiring knowledge and learning about course content.
2. Focus on competence and mastery of subjects
The fact of wanting to increase one's knowledge and improve one's skills in a field studied is associated with a decrease in cheating. The more the student aims to improve, the less likely he is to cheat. Teachers should therefore focus on mastering the knowledge acquired, for example by giving the opportunity to redo an assignment or an exam. This reinforces the goal of development and the desire for improvement.
3. Fight boredom through the relevance of teaching
Some groups of students, however, are lacking in motivation. Nothing, whether in their surroundings or in themselves, pushes them to study. For them, cheating is an acceptable solution rather than making the effort to study. But students are less likely to cheat when they find their course content relevant.
When they can relate the school curriculum to other fields of study or the profession they wish to exercise, this can rekindle their interest in the subject being taught. It is up to the teachers to establish a link of relevance between the subject taught and what turns on the students.
4. Encourage accountability
When a student struggles, he sometimes tends to attribute his problems to external circumstances, such as an unreasonable demand on the part of his teacher. We have found that when a student feels responsible for their own learning, they are less likely to cheat.
Students must therefore be made aware of the need to be involved in their learning, and to devote the necessary efforts to it. Empowering them can help reduce academic infractions. Providing them with choices can also encourage students to take charge of their education rather than suffer it.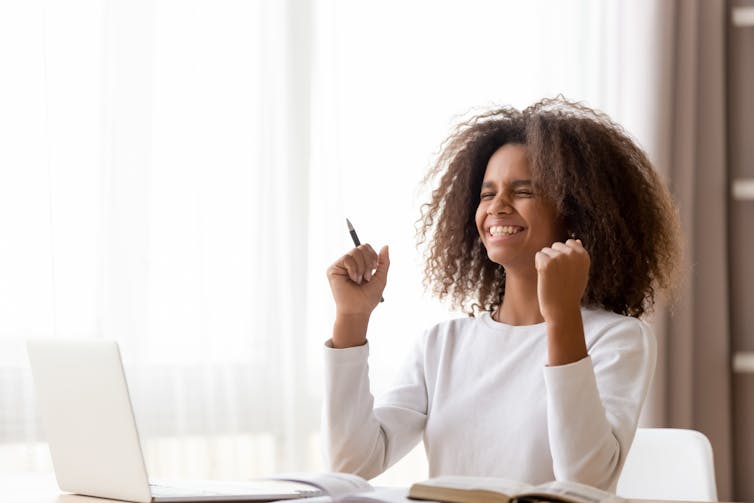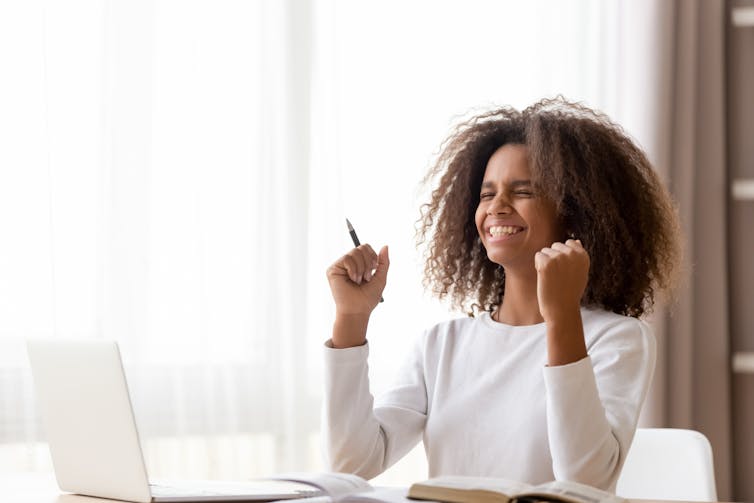 5. Help the student to develop his confidence
We have established that when the student believes in the possibility of a successful course, the tendency to cheat decreases. When the student does not believe in himself, the so-called "scaffolding" pedagogical approach comes to the rescue. This consists in adapting the work to the capacities of the student, then gradually increasing the level of difficulty. This approach gradually improves the confidence necessary to allow the student to face new challenges. And as this process goes on, the student will want to dedicate more effort in its course.
A low cost solution
By following these tips, we believe the risk of cheating may be less of a concern, whether during or after the pandemic. Focusing on motivating students is a less controversial and more economical way of controlling the inclination to cheat among some.
Will this be enough to eliminate the problem? No. But it is worth adopting these strategies - among others - to combat dishonesty in academia.

By Carlton J. Fong, Assistant Professor of Education, Texas State University and Megan Krou, Research Analyst, Teachers College, Columbia University
The original version of this article was posted on The conversation.