By Serge Gérin-Lajoie, TELUQ University, and Cathia Papi, TELUQ University
With the vaccination campaign going well, everything indicates that students and teachers will return to full-time classes at the start of the school year. However, distance training is not destined to disappear completely. Some institutions are considering offering mixed formulas, that is to say face-to-face, hybrid, distance or all these modes at the same time.
Thus, the offer of "comodal" courses, where students are seated in a class, while others follow the same course, but at a distance (live or by viewing the recordings) is set to grow. However, after more than a year in which many teachers and students have discovered by trial and error how to teach and learn at a distance, it seems useful to draw some lessons and consider what research says about this type of course in order to limit the difficulties.
As distance training specialists, we are interested in trends in distance education, the deployment of this training mode, the challenges it represents and the support of the parties involved.
Several questions to ask
Many teachers and students will be happy to return to class in the fall. However, this may not be the case for everyone. Some students enjoy distance education which is well suited to their situation, their autonomy or their budget.
For their part, teachers are probably not all happy to return to face sometimes complicated classroom management and having to travel when their schedules are often busy. As they have invested time to create distance learning courses and develop their skills in the field, some might prefer to continue the distance training, in whole or in part.
In this sense, it is quite possible that several establishments consider this mode of training as a means of reaching more students, in Quebec, in Canada, or even in the whole world. After all, Quebec higher education institutions are funded by their student attendance! However, if it were that simple, institutions would have been offering distance training all over the world for a long time.
The reality is that broadband internet access is far from guaranteed in all regions, even in Quebec. Taking live training through video conferencing platforms like Zoom or Teams can be difficult there.
This is without counting the issues related to time zones. What time will the sessions take place? Will the targeted students be available? Will there be 24/7 support services for students outside Quebec? Finally, we must also consider that in many parts of the world, the Internet goes through cellular connections. Students must therefore follow their course with slower, less reliable connections in addition to having to use a very small screen, which is obviously not conducive to learning.
There is therefore a set of questions that must be asked by institutions that want to embark on the planetary conquest of students through complete distance training or comodal courses.
The mirage of co-modality
At first glance, a formula combining classroom and distance education may seem interesting, even promising. Students can choose the mode of training they prefer, which can contribute to a more inclusive approach. However, in the field, several obstacles to this mode of training appear.
For example, pedagogically, how can we ensure that distance students do not feel marginalized or forgotten by the teacher in the classroom? How can they ask the teacher questions or interact with the students in class? Will the teacher need an assistant to manage both in-class and remote students? How can we ensure that students taking the course remotely while listening to the recordings are not penalized during learning activities requiring interactions with their peers?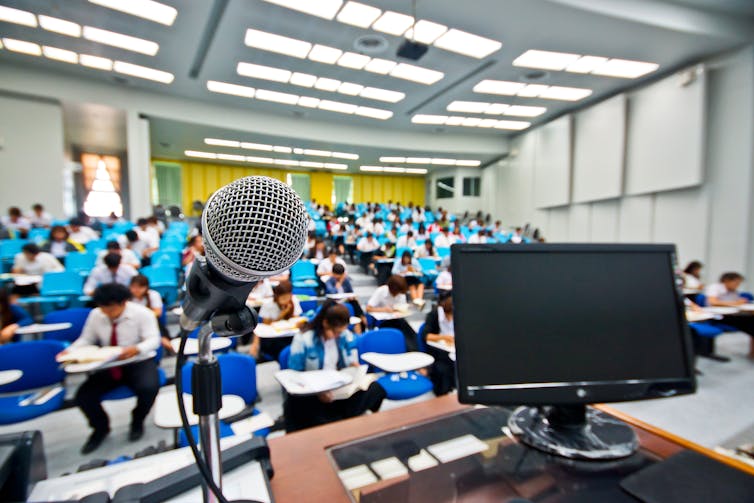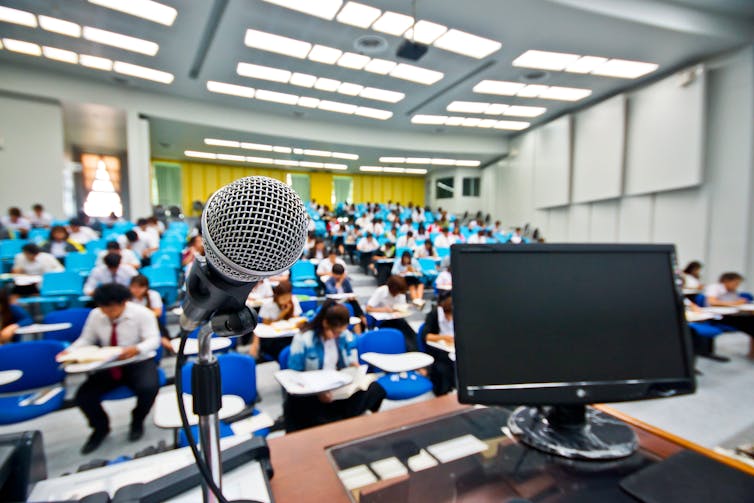 Technically, the microphones used are also likely to pose a problem since they will pick up the teacher and the sounds of the class. Will the teacher have to stay in a specific place so as not to get out of the frame of the camera? Will the comments of the other students be heard? Will it turn into cacophony if several words overlap? If the teacher uses a conventional board or an interactive digital board, how will distance students be able to see what is written?
In short, to imagine that teaching in a comodal course only consists of turning on a camera in a classroom is practically an announced disaster as it underestimates the challenges to be met. Furthermore, inclusive distance learning approach is not just about offering different modes of training for the same course, even if this can help.
There is therefore a whole educational and technological design process to be carried out in order to be able to offer comodal courses that will interest students.
Four conditions for success
In fact, considering this form of training can be interesting, but to achieve the virtues mentioned above, you have to think about offering courses flexible which allow students to follow their course in person or remotely and which are based on four fundamental pillars :
1 - students can choose the training mode at any time (in person, remotely live or through recordings) at the time that suits them;
2 - the quality of the learning approach proposed must be equivalent, regardless of the training method chosen by the students;
3 - learning activities mobilize resources that can be used, regardless of the training mode; and
4 - students have equivalent access to the same resources (inclusive teaching material) regardless of the training method chosen.
Thus, to develop this type of course, we must not only consider offering a face-to-face and distance course at the same time, but also design courses for both face-to-face and distance students in order to offer a learning experience. rich and equivalent learning for all. In short, there is a whole reflection and design approach to be observed.
Yes distance teaching cannot be improvised, teach in comodal either! However, with efficient technopedagogical tools, training and support by specialists and time to design their courses, all teachers can manage to develop quality distance learning experiences for their students, regardless of the situation. frame.
In the same way, to internationalize the courses and programs of the establishments by making them available at a distance, respecting these essential conditions will make it possible to avoid the pitfalls and especially the bad experiences of the students for whom these courses are intended.
By Serge Gérin-Lajoie, Professor, TELUQ University, and Cathia Papi, Professor, CURAPP-ESS, TELUQ University
This text was first published on The Conversation under a Creative Commons license. (Re) read the original article.