Back to school is coming and we are back in business. Here are your #Ébrèves. Don't hesitate to share them or to write me if you have news to share.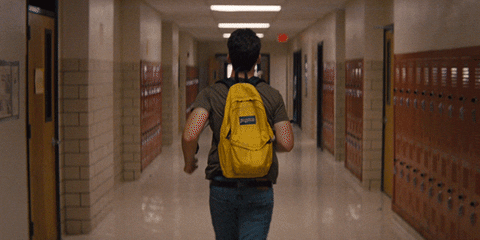 In this edition: Kids Code Jeunesse Summer Institute, call for projects in culture for youth mental health, interdisciplinary projects to discover, a keyboard to help dyslexic youth, the Charter for digital culture and citizenship education has been launched in France and much more!
Good reading.
Please note that the use of animated GIFs in this short news digest is for entertainment purposes only!
---
Kids Code Jeunesse Summer Institute is coming
The KCJ Summer Institute is a three-day virtual conference offering bilingual workshops and webinars to support digital literacy in K-5 classrooms and is completely free to all in-service and pre-service teachers across Canada.
From August 16 to 18.
Register now: http://ow.ly/cTvs50JCSh4
---
Call for projects in youth mental health culture
The call for projects in culture for the mental health of youth aged 12 to 18 is extended to September 23, 2022. This one aims to :
Increase the number of regional cultural initiatives designed to have a positive impact on the mental health of youth aged 12 to 18;
increase the number of people aged 12-18 participating in cultural activities that have a positive impact on their mental health;
Support cultural and community organizations that wish to implement cultural projects aimed at improving or maintaining mental health among youth;
to promote regional mobilization in youth culture and mental health through the support of collaborative projects.
The call for projects is open to :
organizations listed in the Culture-Education Directory;
professional cultural organizations not listed in the Culture-Education Directory;
public libraries;
community organizations.
---
In bulk
To discover
An interdisciplinary project to be completed (secondary): Imagining and designing a constellation in first grade.

Science: Introduction to technology and machine tools
Mathematics: Cartesian planes, angles, decimal numbers, scales
Arts: pictorial representation of the constellation
French: narrative and oral discourse

Playing in the Classroom (Primary): New France Dungeon

Role-playing game that requires collaboration and the use of various mathematical, numerical (Minecraft), historical and financial skills.

A digital exhibition on the planet Mars designed by the first year students of the École des Mines de Saint-Étienne, France.
To read
---
The youth of the C-Vert Gatineau program get involved for the environment
During the summer season, the young people of the C-Vert after-school program are implementing several concrete actions for the health of the environment in Gatineau. The C-Vert Gatineau group, managed by the organization Enviro Educ-ActionThis program brings together young people between the ages of 14 and 16 who are involved in a summer internship.
The teens completed three civic engagement projects this summer to benefit the Jardin urbain du Vieux-Gatineau in the Notre-Dame district:
● Planted fruit trees and shrubs on the garden site, a former parking lot;
● Wooden construction of a garden compost system;
● Design of awareness posters on urban agriculture, the operation and benefits of the Jardin urbain du Vieux-Gatineau.
C-Vert is an extracurricular program that allows fifteen teenagers to develop their eco-citizen leadership skills and to learn more about local and global environmental issues. The C-Vert 2022 internship is made possible thanks to the contribution and support of several partners such as the Government of Québec, The YMCAs of Québec, the City of Gatineau's Green Fund, Mathieu Lévesque - MNA for Chapleau (CAQ), the Vivre en vert - Gatineau campaign managed by the CREDDO, the Serres urbaines Notre-Dame and the Comité de vie de quartier du Vieux-Gatineau.
---
To put on the agenda
In response to the first information about the new Quebec Culture and Citizenship program (which will replace the Ethics and Religious Culture course in Quebec), pedagogical advisor and ethics teacher Alexandre Chenette has decided to propose a series of 3 webinars that will be offered free of charge at the beginning of the school year:
Wednesday, September 14, 12pm and 7pm, "CRITICAL THINKING | I'm not trained for this..."
Wednesday, September 28, 12pm and 7pm, "SOCIO | I'm not trained for this..."
Wednesday, October 26, 12pm and 7pm, "EDSEX | I'm not trained for this..."

One of the goals is to equip everyone with a knowledge base and be better equipped to teach this new course.
Details on Alexandre's Facebook page.
---
In France: Launch of the Charter for digital culture and citizenship education
The Charter for education in digital culture and citizenship was launched this summer in France by the Direction du Numérique pour l'Education.
The work is now continuing in workshops in the management offices to ensure that it is appropriated by all the actors of education.
---
Adaptation for #Dys
Dyscalculia, dyslexia, dyspraxia, attention deficit disorder with or without hyperactivity (ADHD)... a series of small bookmarks has been designed to give tools to school workers.
Original source: https://www.dys-positif.fr/
In anticipation of the new school year, (re)read our file on dys disorders.
---
Child Protection: The Open Digital Education Project
Open Digital Education, the company that publishes the ONE and NEO digital workspaces for schools, has designed a hotline for child victims of violence. The project won the Numérique Inclusif, Numérique Éducatif prize, awarded during the "Edtech and Territories: what impacts for what realities?" day, organized by the Banque des Territoires with Edtech France.
The call for help button will be accessible directly from the school's digital workspace (ENT). By using it, each student will be guided to the most appropriate help for his/her situation. If the student's school has activated the "local help" option, the student will be able to contact trusted people in his or her school directly via the ENT messaging system.
The school is in the front line to raise awareness of violence and detect it. That's why Open Digital Education is also planning a support plan for all members of the educational community. It will include resources and conferences. Online meetings will also be organized for students and families.
Currently in the design phase, the device will be tested this fall in Hauts-de-France, before being deployed in all schools in the region. Eventually, the button could be extended to all digital workspaces operated by Open Digital Education and reach more than 3 million students.
---
In closing, enjoy the last few days of your vacation.
If you want even more, you can (re)see last week's #Édubrèves.
See you soon! Don't hesitate to tag us on Twitter (@millaudrey or @riomarti) so we can talk about your project/resource in an upcoming review of the week! Have a great week.