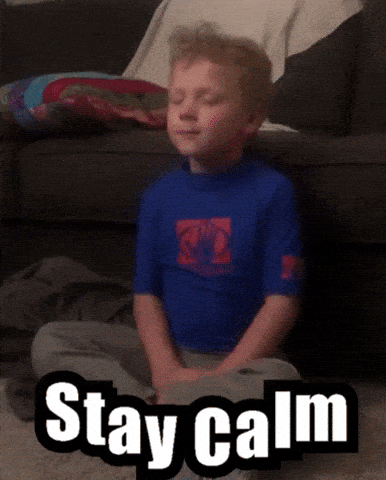 Good Sunday! Here I am with the #Édubrèves of the week. Do not hesitate to share them or write to me if you have any news to circulate.
In this edition: resources to support you in teaching (online or in person), youth and labor law, virtual digital cafes, online events you won't want to miss and much more!
Good reading.
Please note that the use of animated GIFs in this short news digest is for entertainment purposes only!
---
Class outing, back on January 19
The webcast dedicated to education, Sortie de classe, will be back next Wednesday (January 19, 2022) from 7:30 p.m., live on Facebook.
For this episode, the hosts have brought together a great group of guests who have resources to offer teachers: Marius Bourgeoys from EscouadeEDU, Sylvain Duclos from 1 app per day, Stéphanie Dionne from École branchée, Alexandra Coutlée, the Geek from department, Joël McLean from Inspire Leadership, Karine Pilotte and Laura Marquié from the Community of Education Leaders.
To watch previous shows and to follow live broadcasts.
To (re)read the article already published on the École branchée website about Class Exit.
---
New Éducaloi workshop on workplace harassment
Do you want to discuss workplace rights with your students, but do not feel equipped enough? Invite a lawyer to your class for free to lead Éducaloi's new workshop: Work, but not at all costs!.
Your students will test their knowledge of employee rights, such as uniforms or statutory holidays. They will also discuss real situations of workplace harassment. This workshop will help them ask themselves the right questions if they are experiencing an unpleasant situation at work, to recognize harassment and to go to the right resources to obtain information or file a complaint.
Visit legaleducation.ca to register your class. This project is carried out thanks to the financial support of the CNESST via its program aimed at the fight against psychological or sexual harassment in the workplace.
---
Bulk Resources
Waiting for Google Meet : an extension of attendance (class lists, students present, absent, having left, classification in alphabetical order surname or first name), presented by Sylvain Duclos of 1 app per day
Get started with Root : a new self-training on the Campus RÉCIT site, which includes a simulator that allows you to do robotics even remotely, proposed by the National Service of RÉCIT, field of mathematics, science and technology.
Box of technopedagogical tools : a toolkit of techno-pedagogical tools, presented by Compétence culture (the sectoral committee for labor in culture). This resource allows direct and simplified access to digital tools that can be used during training.
Build a hyperdoc : The RÉCIT of inclusion and school adaptation presents a micro site to learn how to build HyperDocs. A HyperDoc is a lesson that takes place on a digital document and that brings together all the hypertext links to all the documents and resources that the students will need.
Seek-and-find bingo version : easier and more interesting to do for young people in primary school, proposed by the teacher. Want to edit it? No problem! Simply click on File and Create a copy.
Free films and educational sheets : Pleins Ecrans and the RÉCIT Culture-Éducation share two educational sheets to accompany the viewing of the short films Fragments by Aline Sitoé-N'diaye and L'abat by Olivier Côté.
---
CréaCamp SPRINT in virtual mode
The École branchée team offers a morning of CréaCamp SPRINT (duration of 3 hours) on February 4th. The following workshops will be offered:
The sketchnote in class : to SEE your students' learning, with Laurie Couture, educational advisor at École branchée;
The Interview: How to Access Student Understanding, with Jason Belzile, educational advisor at École branchée;
Create an Escape Game Using Google Tools, with Marie-Andrée Ouimet, Google certified trainer;
Teams and Notepad: classroom management and resource organization, with Sylvain Desautels, technopedagogue at Chenelière Éducation;
Jthem and interactive lesson plans with Google Slides and the "2-click canvas"!, with Annie Moreau, PE teacher at the CSS de la Capitale, creator of La Prof d'Éduc.
For registration and information.
---
Virtual digital cafes
During the Digital Youth Month, in February 2022, Digital Spring is offering a free online educational activity 100% for secondary schools.
The Virtual Digital Cafés (CNV) aim to offer an immersive experience, with a 3D virtual world (metaverse), with the aim of introducing young people to the possibilities of digital, to the issues of citizenship in the digital age and to careers of tomorrow. For a period of approximately 60 to 75 minutes, the Digital Spring facilitators invite young people to explore the different thematic areas. The activity includes a guided portion and a self-guided tour.
To book a Virtual Digital Café during the month of February 2022 for one or more classes, or to receive more information:
You will find HERE, an overview of the virtual world of Digital Spring.
Prerequisites for each student when using the virtual world:
A computer (PC or Mac), connected to the Internet and well charged;
Headphones with built-in microphone (highly recommended).
---
To put on the agenda
For all the details and to register.
Also visit the CRIFPE website to find out about the activities scheduled for the year 2021-2022.
---
January 29: Parents' day – When emotions get involved – The Learning Disabilities Institute presents a second day of free, online conferences. During the day, 6 experts will share concrete tools. Anyone who registers will have access to conference replays for 30 days.
Discover the program and register.
---
To consult the complete program.
---
---
Promoting digital and fighting misinformation through education
The European Commission has launched a special group of experts to create "Common guidelines for teachers and education staff to promote digital literacy and tackle misinformation through education and training" , a direct contribution to theStock 7 of digital education action plan for 2021-2027.
During its first meeting, this group identified common characteristics of good practices on five key themes:
critical mind;
teacher training;
prevention through training, myth-busting and fact-checking;
student involvement;
collective and pedagogical approach.
---
EcoSchools Canada seeks a Bilingual Program Manager
EcoSchools Canada is recruiting a Bilingual Program Manager to support environmental leadership and climate action in Quebec schools. Since 2005, the award-winning certification program ofEcoSchools Canada provides schools and outdoor education centers with a self-sustaining verification and recognition process. Reaching approximately 1 million students each year, EcoSchools is Canada's bilingual, voluntary environmental certification program for K-12 schools. The certification program is deployed through training workshops and webinars, conferences annual reports, educational resources and national campaigns.
To know more about EcoSchools Canada and to join a team committed to sustainable environmental change, consult the job description by visiting: Join our team. Start date scheduled for February 21, 2022.
---
A picture is worth a thousand words
Spotted on Alexandra Coutlée's Twitter account
---
In closing, if it's Leonardo Dicaprio who says it...
See you soon! Until then, don't hesitate to "tag" us (in good French…) on Twitter (@millaudrey or @riomarti) so that we can talk about your project / resource in a future review of the week! Have a great week.