Happy Tuesday! Here are the #Edubrèves of the week. Feel free to share them or write to me if you have any news to share.
In this issue: the 4th Digital Literacy Day, the winners of the Canadian Financial Literacy Challenge, the new Canadian Network of Playful Schools, an Aboriginal Escape Game, a series of podcasts on sexuality in the digital age, and much more!
Good reading.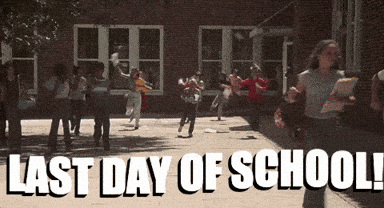 Please note that the use of animated GIFs in this short news digest is for entertainment purposes only!
---
4th Digital Education Day
Mark your calendars! The fourth edition of Digital Education Day will take place on November 4, 2022. This event is primarily intended for teachers, educational consultants and school administrators from public and private networks, as well as Aboriginal education organizations.
Learn more about the previous editions.
---
Winners of the Canadian Financial Literacy Challenge
The Canadian Foundation for Economic Education and its partner, CIBC, announced the winners of the My Money Matters Canadian Financial Literacy Challenge. High school students, aged 14 to 18, were challenged to create new tools and resources to help young Canadians improve their financial knowledge and skills.
The first place winners are Laïla Lescot, Sarah Leshob and Elena Feddog from Montreal, Quebec. They share a 10 000 $ scholarship.
Listen to them talk about their project.
Check out their final project: a magazine on financial education (in English).
Second place goes to Dayna Xiao of Kanata, Ontario. She received a scholarship of 5,000 $. Danika Nell from Boissevain, Manitoba received the 3rd place award of 2,500 $.
The winning designs and those of the regional candidates are presented on the website mymoneymyfuturechallenge.ca (in English). Some resources are available in French on this site moneyforsake.ca. It also provides teachers, parents and youth with the opportunity to learn about money issues, develop financial skills and become better equipped to build a successful financial future.
---
Call for papers launched for the 5th Symposium
The 5th Symposium on Knowledge Transfer in Education will be held on April 19, 2023 at Laval University and online. The theme will be adaptation. A call for papers has just been launched for practitioners and researchers who wish to share their experiences or knowledge related to this topic.
The theme of adaptation will be addressed from three perspectives: Adaptation in a time of pandemic: what do we want to keep, Adaptation at the heart of health and wellness, Adaptation in the information and data age.
Discover the call for papers. The call is open until the fall, but space is limited.
---
The New Canadian Play School Network (CPNS)
Funded by a grant of the LEGO Foundation and led by education researchers at the University of Ottawa, the RCÉL is a newly established network of English- and French-language public schools across Canada that promote learning through play for students in the middle grades - Grades 2 and 3 and Secondary 1 in Quebec, and Grades 4 to 8 in the other Canadian provinces.
The new network is currently recruiting schools to join its ranks. The deadline to submit your application is July 8, 2022. Full details can be found at : https://playjouer.ca/fr/.
---
Agribusiness comes to school
The Agri-Foods Goes to School (AAIE) educational project will be rolled out to nine additional schools. The AAIE program aims to awaken children to the reality of the agricultural world. It allows them to become aware of the importance of eating better while helping them discover Quebec products and the importance of consuming locally.
---
In bulk
To read
A Native Escape Game to Raise Awareness of the Sixties Roundup A virtual escape game developed by an Alberta team features a survivor of the 1960s roundup to educate players about the realities of this chapter of Canadian history.
Garneau school vibrates with robots: For the past few years, all the students at Garneau Elementary School have been doing robotics.
To listen
Know yourself
To discover
UQAT training on Aboriginal issues open to all The Continuing Education Department of the Université du Québec en Abitibi-Témiscamingue (UQAT) is now offering Aboriginal Peoples 101: Nita kikenimicinam, or "Get to know us" in Anicinapemowin.
---
In closing, enjoy the summer!
If you want even more, you can (re)see last week's #Édubrèves.
See you soon! Don't hesitate to tag us on Twitter (@millaudrey or @riomarti) so we can talk about your project/resource in an upcoming review of the week! Have a great week.