By Isabelle Carignan, TELUQ University ; France Legault, TELUQ University and Marie-Christine Beaudry, University of Quebec in Montreal (UQAM)
Computer screens, tablets, smartphones... Reading on screen is an integral part of our daily lives. It is therefore not surprising that researchers have taken a keen interest in it for several decades.
But what are the reading strategies that are mobilized on digital media?
We are three researchers interested in media literacy and our research is directly related to the school environment. In education, media literacy refers to the teaching of reading, writing, and speaking skills through media (social media, online videos, newspapers, etc.).
Paper, screen, same operating mode?
In this article, we use the more inclusive term "screen reading", not "digital reading" or "online reading". A person can read a document in PDF format or in a word processor without having access to the Internet. They can also read an e-book on a reading device where there are no hyperlinks to activate. Finally, they can choose to read on screen using web browsers and do a keyword search to access information.
When we talk about reading on screen, it can be reading on different electronic media (computer, tablet, phone, e-reader), digital documents with a linear structure (word processing, PDF) or web content of any kind (text, hyperlinks, videos, still images, moving images, advertisements).
The reading on the screen is both similar and different from reading on paper. Of reading strategies in paper version are mobilized in the context of reading on the screen. On the other hand, while traditional reading on paper is more linear, reading on screen is less so. Often, reading on the screen is done by hovering (like reading subtitles or diagonally).
Unlike traditional paper reading, it is easier for the reader to deviate from the initial reading intention, for example by clicking on thehyperlink of a video or photo that does not necessarily concern its reading intention.
Reading on the screen also involves the use of informational skills. These are skills that allow one to target a research object, find it, evaluate the information found and reuse it as needed. For example, when reading on a screen, it is often necessary to do a keyword search on a search engine with a specific reading intention. The smartphone or tablet screen is at your fingertips and is often faster. This explains why keyword searches are more frequent when reading on the screen. On the other hand, it also happens sometimes that we have to search for the definition of a word on our cell phone when we read in paper version.
This search for information then mobilizes screen reading strategies as well as informational skills that are used in constant interaction.
Confusion between screen reading strategies and information skills
In the researchWe sometimes see confusion between screen reading strategies and information skills.
The on-screen reading strategies are used to understand the information in texts, whether it is within sentences, between sentences, globally, by interpreting and also by restoring comprehension if there has been a comprehension problem. Skimming a text, identifying the most important ideas, and predicting what will happen next in a text on the screen are reading strategies, but they can also be used in print.
The informational skills Rather, they refer to conducting a keyword search because of an information need, and then locating, evaluating, and using that information according to the intent of that information search. Informational skills allow one to verify the reliability of a source to avoid spreading false information, for example. All of these informational skills are used in the context of screen reading, in interaction with reading strategies.
The constant interactions between screen reading strategies and informational skills are represented in the figure below. As for technical skills (such as using the scroll bar, arrows, and functions like CTRL + F), which allow for good screen functioning and mastery of technological tools, they allow for a back-and-forth between screen reading strategies and informational skills. However, they do not mobilize text comprehension.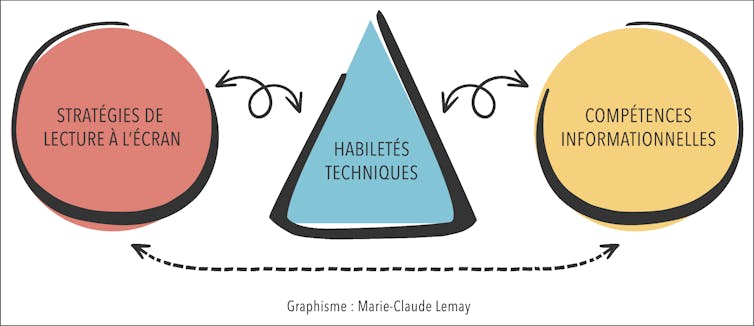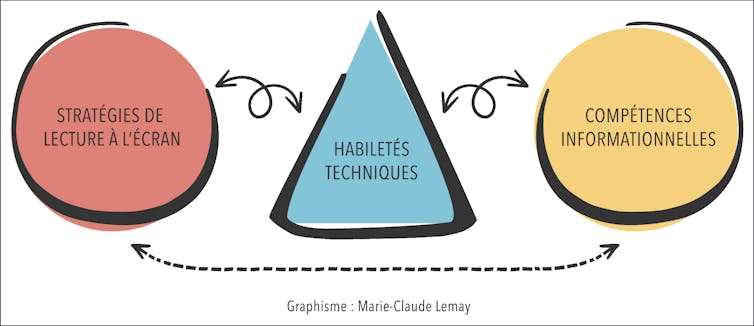 Some findings and irritants in the school environment
The educational resources The literature on screen-based reading strategies is very limited, so teachers will often teach paper-based reading strategies from different models. In some cases, they may not feel sufficiently equipped to teach some of these on-screen strategies or they may not teach them at all. Similarly, not all teachers know about information skills or demonstrate them to their students. Finally, there are many strategies and skills and the vocabulary used sometimes differs from teacher to teacher, adding to the confusion we sometimes see when talking about screen reading.
On the other hand, in high school, this teaching of strategies and skills is often found in the backyard of French teachers. Teachers of other disciplines (math, science) are not equipped and do not necessarily equip students with screen reading strategies, for example. At the primary level, although teachers teach all disciplines, the teaching of screen reading strategies is not necessarily done either.
Screen reading strategies and information skills are important to mobilize, in all subjects. From a very young age, digital technology is omnipresent in the classroom as well as in the personal lives of students. In order to adequately equip them, it seems necessary to make teachers aware of the importance of showing them to their students.
Especially since being - or becoming - critical and informed digital citizens is crucial to avoid believing or spreading false information.
By Isabelle CarignanFull Professor, TELUQ University ; France LegaultRÉCIT- Team Leader, TELUQ University and Marie-Christine BeaudryProfessor of French didactics, University of Quebec in Montreal (UQAM)
This article is republished from The Conversation under a Creative Commons license. Read theoriginal article.