QUEBEC, October 29, 2020 - École branchée, an organization that has supported schools in the educational integration of digital technology for more than 20 years, carried out, from September 5 to October 5, a survey of 650 respondents in the field of education aimed at better understand their main concerns regarding the digital challenges generated by distance education.

With the closure of schools and the upheavals of last spring, teachers were preparing for a 20-21 school year under the sign of ambiguity. As stated by the editor and general manager of École branchée, Ms. Audrey Miller, "the current situation makes everyone realize the need to promote education and its actors. Surveying education professionals about their digital concerns will allow École branchée to continue to guide them towards the best educational tools and approaches that will help them face the challenges of a constantly changing world. ".
Highlights of the survey:
More than a third (37 %) of the respondents indicated that the possibility of teaching at a distance and in class in parallel was their greatest concern, in first position before the sanitary conditions to be respected (25 %) and the program to be taught in the schools. current conditions (16 %).
Almost half (48.5 %) of respondents said they used digital tools in the classroom, even before confinement.
23 % of respondents say they are comfortable with digital technology, even though they mainly started using it in class at the start of the pandemic only, while 28.5 % of them still consider themselves very beginners.
"Currently, every teacher is faced with major challenges; we must support them and consider education as an essential service for the future of our young people, "said Maryline Barrette Dubé, Web editor, responsible for carrying out this survey. "It allowed us to take the teachers' pulse. For example, if many already saw an interest in the educational use of digital tools as a lever for learning before the pandemic, others had to take the turn rather suddenly. They need support to make them their real ally. In addition, those who used digital tools before the pandemic recognize that their approach must still be adapted since teaching in the presence and at a distance has its share of differences, "concluded Ms. Barrette Dubé.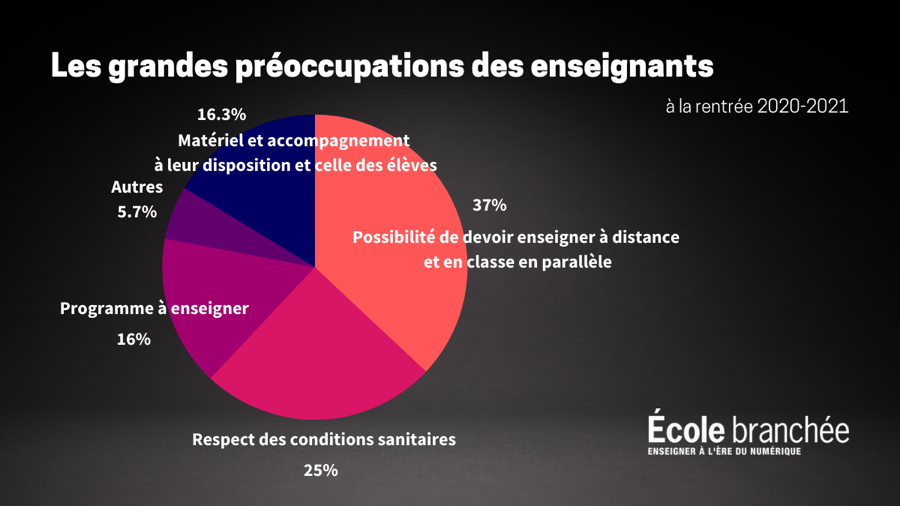 The complete analysis and the results obtained were the subject of a detailed article published on the site's news feed ecolebranchee.com.


ABOUT THE BRANCHÉE SCHOOL

École branchée and EngagED Learning is a non-profit media that informs, trains and equips school stakeholders to help them meet the challenges of teaching in the 21st century. Partner of the Digital Action Plan in Education and Higher Education, its main fields of action are at the level of professional development, of the digital competence and of media education. Find out more.