🔔 ATTENTION!
This content was last updated about 12 years ago.
Some items may be out of date!
From January 27 to 29, the international meeting took place in Clair, New Brunswick Clear2011, a gathering of educators (teachers, students, CP, people from New Brunswick Department of Education, of APTICA, etc.), but also a few business people interested in education, Web 2.0 and collaboration. Teachers Sylvain Bérubé and Catherine Lapointe share with us their experience there. (First of two parts.)
Like the Clair2010 event last year, Clair2011 sparked a lot of exchanges of all kinds: exchanges between people on site, but also via the Web, particularly on the event's Twitter channel (see the compilation here), exchanges between visitors to the CAHM community school (Haut-Madawaska Learning Center) and the students themselves, especially on Fridays, during the educational fair where each of the students present could explain to the "grown-ups" what what they did, what they learned, etc., whether in the radio or television studios, in music, or in their respective classes. Seeing these students in action was priceless: you had to be there to enjoy it as much as possible. Among all these meetings, let us also note the one with handicapped pupils, integrated in the so-called "regular" classes. They showed us that the use of technologies is a highly relevant medium (voice recording on iPad and navigation by instinct, etc.).
Of course, Clair2011 is also conferences, and not just any. Last year, Marc Prensky had made the main speech. This year it was the turn of Daniel Peraya, professor at the Educational Technologies Unit of the Faculty of Psychology and Educational Sciences of the University of Geneva, to be the main speaker and to talk to us about The innovative teacher: a paradoxical posture. In his own words, "any teacher […] who […] seeks to integrate ICT and, through them, to organize the distancing of some of his educational activities is necessarily confronted with technopedagogical innovation. First, because our institutions and our training programs are historically face-to-face. Secondly, because current technologies also constitute a factor of novelty, both in relation to the organization of the teaching / learning process and in relation to the models and pedagogical approaches they inspire. An innovator, he found himself embarked on an adventure of which he had probably not anticipated all the consequences: an expert in his discipline and in scientific research in his field, he will gradually have to reflect on pedagogy and integration. ICTs; he [will] undoubtedly also be confronted with the need to manage and evaluate his teaching as well as the psychoeducational system that he sets up. In other words, he will have to develop professionally, learn new things and acquire new skills for which his initial disciplinary training did not necessarily prepare him. »We will find some notes taken during the conference here.
This year, three other conferences were also held.
First, on Thursday evening, Francois Guité opened the ball with Education in the era of revolutions, by telling us about the increasingly rapid evolution of the world and of pedagogy, in connection with technologies and paradigm shifts. Enough to spark discussions for the rest of the weekend! The themes addressed were mainly informal learning, the importance of community, the transfer of knowledge, the anti-hierarchical mesh of knowledge and diversity which goes against uniformity or standardization.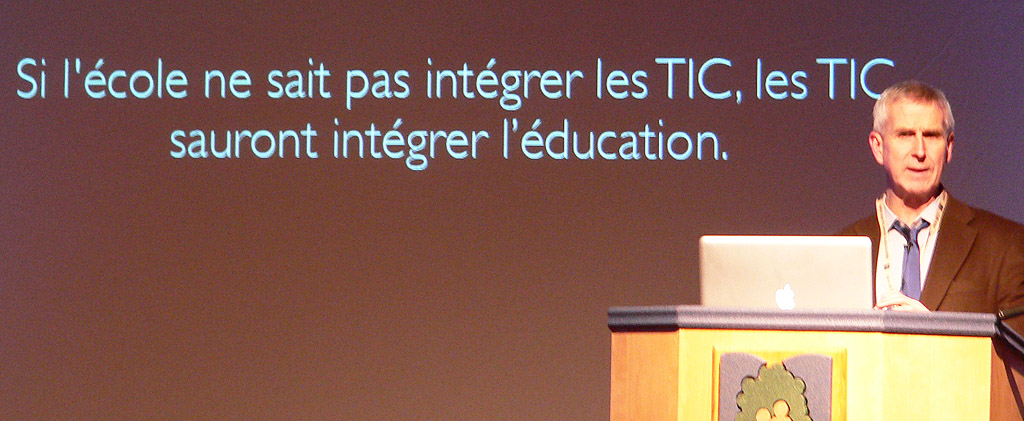 We were also treated to a conference by Sébastien Paquet, university researcher and blogger, entitled Learn today to build the society of tomorrow. He spoke to us about what our world will look like in 2020, or 2050. We are going through a period of rapid change, and everything indicates that the pace of these transformations is accelerating. Learning will play a central role in our adaptation, both individually and collectively. In the presentation, we explored how it is possible for us to make the shift from the industrial era to the era of communication. The role of young people in creating a culture of open collaboration in virtually all areas of human endeavor. The challenge, he says, is "to motivate learners to listen to each other". Break with the idea that the teacher "knows better". He ended by presenting the example of William Kamkwamba, a 14 year old Malawian inventor, and saying that young people will be our guides. A conference full of common sense!
Finally, Saturday morning, just before the game barcamp (or non-conference) in workshops, Laurence Juin, a teacher from the La Rochelle region in France, told us about a Experience in contact with ICT which serves pedagogy and learning well. Laurence experimented with Twitter with her students and she shared with us the improvements she observed in them, as well as the pitfalls to avoid, etc. It must be said here that his experiment had been well planned, pedagogically speaking, from the start. A dynamic presentation that gave a good kick-off for the mixing of ideas in workshops afterwards.
The rest tomorrow!
Infobourg thanks those who were its eyes and ears during the event and invites you to visit their pages to find out more about what drives them!
by Sylvain Bérubé
http://sylvainberube.com
http://twitter.com/slyberu
and Catherine Lapointe
http://pedagogie.csdecou.qc.ca/catherinelapointe
http://twitter.com/catlap78