New logos will soon be appearing on processed products purchased in grocery stores to clearly indicate which ones are high in saturated fat, sugar and salt. This bad advertising on the packaging could encourage some companies to change their recipes to offer better-for-health products.
Logos that you might see appear on crisps, cookies, and cakes, among other things, will look like these: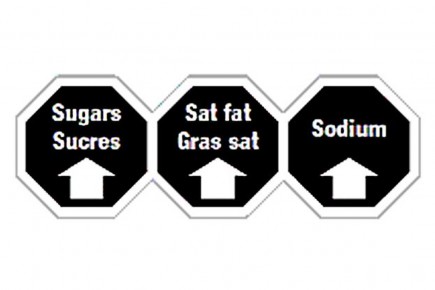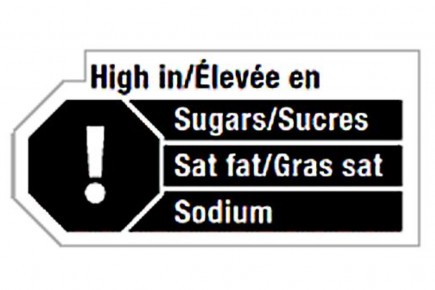 All foods that contain more than 15 % of the maximum daily value for sugars, saturated fat and sodium are considered high and will carry the logos. The food industry will have five years to display these symbols.
"In the coming years, we will be able to find a logo on the packaging of products purchased in grocery stores, to indicate whether they are high in sugar, fat and salt. This is a measure that will be taken by Health Canada to better inform Canadian consumers. The initiative displeases the processed products industry, but makes people happy on the side of the Quebec Coalition on the issue of weight. "

Radio-Canada
Challenge
Dietitians of Canada made available 31 social media posts to use. Students can use this as inspiration to create their own awareness message related to healthy eating. They can use their favourite social network to post a short text or a " story ".
---
GENERAL PRESENTATION
Disciplines and levels targeted
– Physical education and health
Adopt a healthy and active lifestyle
– Science and technology (secondary 3)
The human, a living organization
Canada's food guide
Targeted dimensions of digital competence
Producing content with digital
Developing and mobilizing information literacy
Harnessing the potential of digital technology for learning
Developing critical thinking with regard to the use of digital technology
Suggested digital tools
Tool to create a table (Excel, Sheets, etc.)
eduMedia
Educational intention of the guide
Through the following activities, students will learn about the importance of healthy eating while developing their critical thinking skills.
Objectives of the activities
Understand Health Canada's action to identify unhealthy foods.
Note arguments for and against this measure.
Know how to read and interpret a food label.
---
SUGGESTED ACTIVITIES
To get activity suggestions for teachers, you must subscribe to the Teacher or School version guides! Click here to find out more!
Log in