 This week, we invite you to read your #ÉduBèves, quietly, while drinking your coffee on Saturday morning. Please note, this is a special Training and event. Just because the activities take place online doesn't mean that it will be a little spring in the world of education!
With the precious collaboration of Audrey Miller
Please note that the use of animated GIFs in this short news digest is for entertainment purposes only!
---
Here we go again for the CréaCamp Discovery!
A new season of CréaCamp Découverte (one hour training at the end of the day) starts on March 15th. Here is the program for next week:
---
At a distance, but present in secondary education
The Remote, but present in secondary education evenings of the Quebec Interdisciplinary Pedagogical Council (CPIQ) continue from March 15 to 18. Every evening from 6.30 p.m. to 7.30 p.m., conferences and virtual round tables are on the program. Registration and programming details are available on the CPIQ website.
---
A whole village ... more than ever
Did you know that more than 120 speakers are on the program of 46th Annual Meeting of the TA Institute which will be held under the theme "A whole village… more than ever! "? From March 24 to 26, it is an opportunity to learn more and discuss with enthusiasts who have the well-being of young people at heart.
My colleagues Audrey Miller and Stéphanie Dionne from École branchée will present the conference Concrete examples to maintain the link with your students at a distance.
---
National Forum Activate Science in the Classroom!
On Saturday March 27 from 9:30 a.m. to 1 p.m., the Foundation The hands-on is hosting the National Activate Science in the Classroom forum online. It will be a moment of exchange and promotion of all those who recognize themselves in the principles of an innovative, attractive and contemporary science education.
For its first edition, organized in partnership with The Conversation, the forum will open with a round table on the theme "why teach science today? ". Broadcast on YouTube, it will be invited by renowned scientists (Claudie Haigneré, Etienne Klein, Etienne Ghys), as well as teachers and pedagogues (Sylvain Connac, Jerome Rosinski).
It will be followed by workshops and mini-conferences online. Teachers and field trainers will share pedagogical approaches encouraging creativity, cooperation and critical thinking in students.
To find out more and register: www.activons-les-sciences.fr
---
Other bursts of events
The 39e AQUOPS conference will be held over four days rather than three, i.e. March 29, 30, 31 and 1er next April, under the theme: "A most human digital experience!" " Taken 2
The 3rd edition of LUDOVIA#CH 21 will take place under the theme "Playing together to train and innovate? Digital and teachers' communities on March 30 and 31, 2021.
The Rendezvous for educational success: education beyond the pandemic will be held virtually on March 31 and April 1 and will in particular make it possible to identify concrete solutions and the various means of implementing them from summer 2021 and for the 2021-2022 school year.
---
And to finish…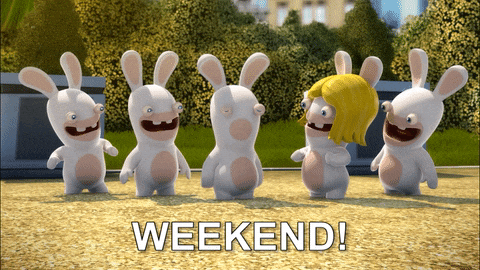 See you soon! Until then, don't hesitate to "tag" us (in good French…) on Twitter (@millaudrey or @riomarti) so that we can talk about your project / resource in a future review of the week! Have a great weekend!