The onset of spring is synonymous with warmth for most parts of North America.
However, it also coincides with great weather instabilities sometimes resulting in tornadoes destroying everything in their path. The tornado season therefore generally begins in March in the Tornado Alley, in the USA. As of March 19, 2021, we were already talking about thirty of these vortex phenomena that have mainly made landfall in Alabama.
You must know that Tornado Alley is a common term for a central region of the United States covering several states where tornadoes frequently occur. You will have to locate this "tornado alley" on a geographical map a little later in this guide.
The tornadoes that occur in the United States are caused by the air mass conflict, between cold polar air and warm air from the Gulf of Mexico, as shown on the map below:
Year in and year out, we are talking about 1,200 tornadoes that destroy everything in their path each year in this region of the globe. Check out this graphic which highlights the very eventful springs in terms of tornadoes in the United States: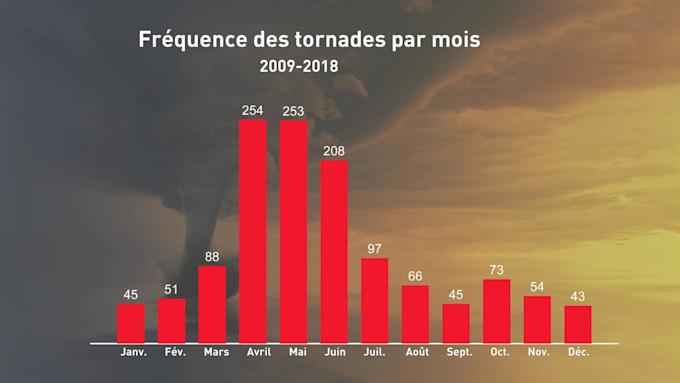 In the case of Canada, far fewer such extreme events are observed. In Quebec, there are about five low intensity tornadoes (0 or 1) per year. Alberta, Saskatchewan and Manitoba are more affected with 30 to 45 tornadoes each year.
"The Prairies are the most active tornado region in Canada, especially in the south. Because we are getting closer to the Equator and therefore have more heat, specifies Natalie Hasell. On average, the Prairies experience 30 to 45 tornadoes per year, with 8 to 12 for Manitoba. "

Radio-Canada, May 24, 2019
Your challenge
Concretely, do you know what is a tornado? What elements must be gathered to allow its creation?
Using a graphic design platform such as Can go, make an infographic to illustrate what you know about this extreme meteorological phenomenon. This website could help you in your search for information.
---
To get activity suggestions for teachers, you must subscribe to the Teacher or School version guides!
Log in
---